Vegan Shortbread (15 pieces)
---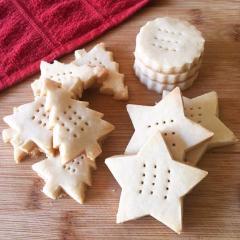 The popular Sam Tan's Kitchen shortbread, now available in a vegan version!
Hand-shaped and baked with vegan butter. Simple, elegant and delicious! A beautiful festive gift for birthdays, Valentine's Day, Christmas or any special occasion.
Available in your choice of shape and flavor.
*All orders are freshly hand made by me personally, and may vary slightly in color or shape. Delivery times depend - I generally can whip stuff up within 48 hours, then ship it to you to arrive 2-3 days after that. Please message me directly if a request is urgent!