Almond London - 25 pieces
---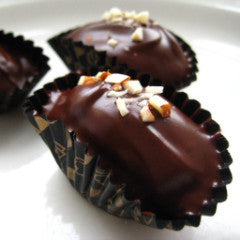 Always a huge hit with chocoholics!
No clue why the name is what it is, but you can be sure these will impress much more than that generic store-bought box of chocolates. A whole roasted almond encased in an all-butter cookie, topped with melted dark chocolate and a sprinkling of chopped nuts. A beautiful handmade gift.
*All orders are freshly hand made by me personally, and may vary slightly in color or shape. Delivery times depend - I generally can whip stuff up within 48 hours, then ship it to you to arrive 2-3 days after that. Please message me directly if a request is urgent!
Perfect treat for special occasions
I got these for a Valentine's treat and they were a hit! We had to fight over the last piece, literary. Almond and dark chocolate- simple but effective, and quite decadent...andd, they look exquisite!